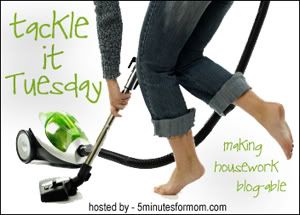 Honestly, I'm usually in no mood to tackle anything, but today I'm planning to give it my best effort...
You see? I have these jars. It's a jar
collection
, actually. (I need these jars! So save your breath if you're thinking of talking me out of it.) And the collection? Well, it doesn't have a good home. And it's starting to drive me a little batty. It's certainly driving my hubby batty, so I've got a responsibility to fix this little probl
eee
m-o.
It may take a while, as there will need to be some considerable shifting around amongst the cabinet contents. It's not going to be a pretty process. But I'm diving in. To tackle it. Regardless.
Finding a place for jars prompts...
finding a new place for the waffle iron and toaster...
which reminds me that I also really want to put the kids' plates and bowls down low for better accessibility.
Of course, moving the plates and bowls to their better, new home displaces a few things...
which have to be moved amongst the baking pans, etc....
which need to be reorganized.
Some of the smaller jars have been living WAY up above our small, very crowded shelf of herbal supplements, medications, etc., so they're taking a trip to a much lower home...,
making room for my hand-choppers and my new prized-possession, an emulsion blender
.
Then there is the pantry, which turns out to be a great place to store my larger jars!
But the pantry is, to say the least, in sad condition.
Let's just say I fill a trash bag and leave it at that, shall we?
The coconut oil gets moved from a very inconvenient location to a much more convenient one. That, in itself, is reason enough to shift things around!
Now? Well, I'm not ashamed to say it...
it makes me downright happy to walk over to the pantry for the baking powder or a sweet potato.
Because my pantry is awesome!
I even end up with an empty cabinet (where the jars used to be and where they had begun to overflow). It's always nice to have a little extra space left over...
And...ahem...now no one has to know I have a jar-collecting problem...
You know. As long as I keep the cabinets closed.